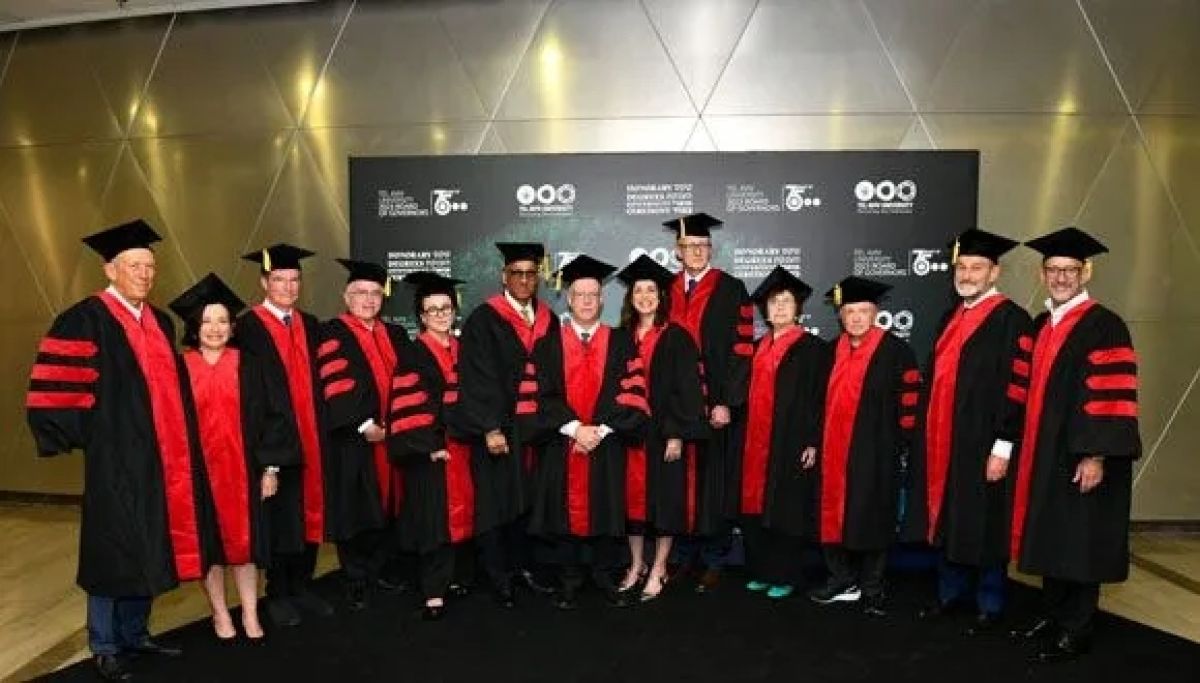 The recipients were honoured for their profound impact on the world in an extraordinary ceremony at the University's 2023 Board of Governor's Meeting.
In a festive ceremony held during the 2023 Board of Governors Meeting, Tel Aviv University awarded honorary degrees to 9 individuals, all of whom have had an exceptionally positive impact on the world. The honorary degrees were awarded by the Chairwoman of TAU's Board of Governors, Dafna Meitar-Nechmad, President Prof. Ariel Porat and Rector Prof. Mark Steif.
Recipients include Morris Kahn, entrepreneur, philanthropist and founder of SpaceIL, who received the honour in recognition of his expansive philanthropic giving to causes including education, biomedical research, youth leadership, space exploration and the marine environment, as well as his commitment to Israeli science, as demonstrated through his generous support of diverse university- and hospital-based projects, including the 3D Cancer Printing Initiative at Tel Aviv University.
Other honorary degree recipients included Nobel Prize laureate Olga Tokarczuk, writer, activist and public intellectual, in recognition of her accomplishments as a world-renowned author and social activist, and her courageous efforts to secure Polish national recognition of crimes committed against Jews during the Second World War, as well as against refugees in the present day; Prof. Barbara Engelking, historian of Polish Jewry during the Holocaust, who was honoured in recognition of her pioneering contribution to Holocaust scholarship and her courageous determination to counter Holocaust distortion and expose the complexities of Polish-Jewish relations during the Second World War, regardless of personal cost.
Tamir Gilat was honoured for his heartfelt willingness, in his role as Chairman of the Israel Cancer Research Fund, to volunteer his time toward providing compassionate support to thousands of cancer sufferers and their families over the years; Sandra & Vlad Shmunis, entrepreneurs and philanthropists, received an honorary degree in recognition of their philanthropic spirit in supporting diverse important causes in Israel and the US through their family foundation, including Jewish values, young entrepreneurs, cancer research and Biblical archaeology.
WATCH: Highlights from the Honorary Degrees Conferment Ceremony, TAU's Board of Governors Meeting 2023:
An honorary degree was also bestowed on Atallah Mansour in recognition of his immense contribution to civil, cultural, and democratic discourse in Israel over almost seven decades as a highly respected author and journalist; and on Prof. Antoine Compagnon, professor of French and comparative literature, College de France and Columbia University, who was honoured for his solidarity with the State of Israel during trying times, often in the face of public adversity.
Prof. Nicholas A. Peppas, chemical and biomedical engineer at the University of Texas at Austin, was awarded an honorary doctorate for his immeasurable influence as a leader and pacesetter in the fields of drug delivery, biomaterials and bio-nanotechnology over almost 50 years, as well as his interdisciplinary research approach, which blends molecular and cellular biology with materials engineering to produce next-generation biomedical systems and devices. Fellow scientist Prof. Pavel A. Pevzner, a computational biologist at University of California San Diego, was honoured for his standing as a world authority in computational biology and bioinformatics and his distinctive research approach that combines theoretical insights with the development of tools and practical applications for tackling real-world biological questions.
Finally, the George S. Wise Medal, the University's highest honour, was awarded to Tharman Shanmugaratnam, Senior Minister and Coordinating Minister for Social Policies of Singapore, in recognition of his extraordinary public service record as an esteemed statesman and international economic leader.
Congratulations to all the recipients! Your accomplishments inspire us and make the world a better place.