Rethinking our plan(e)t
A new exhibition at TAU's Genia Schreiber University Art Gallery combines stunning photos, nature, and tech
"Plan(e)t", a new exhibition at the
Genia Schreiber University Art Gallery
, has turned the gallery space into a colorful landscape of plants, animals, and large mysterious objects. Walking from room to room, you'll find yourself surrounded by lush fruit trees and fearsome birds of prey, strolling through an arid desert and visiting a field of robotic plants.
A view of paradise
"Promised Land," the work of David Burns and Austin Young, which stretches across the walls and first-floor windows of the gallery, offers visitors views to Israeli nature: birds, insects, some from the archives of the
Steinhardt Museum of Natural History
, and the rich and diverse vegetation of Israel's fruit trees. The photos the exhibition is comprised of were taken across the country by the artists during a period of several months. Visitors are also offered maps, which they can take with them, with the locations of fruit trees across Tel Aviv's urban landscape.
 From the "Promised Land": The gallery walls covered in all the colors of the rainbow. (Photo: Asaf Brenner)
Meet me in the living room
The "living room" created by the Onya Collective is a bright, living space intended for resting, reading and taking in the exhibition. This is a growing space, in all senses of the word, where workshops and discussions will take place, and will continue to change and expand as the exhibition continues.
A plant environment that's also an urban environment
Robots in the field
Artist Liat Segal, known for her sophisticated use of technology, has created huge stems that respond to the changing light in the gallery space. Like plants in nature, their movement follows the light and adapts to how it changes. The stems of the robotic "plants" are coated with carbon fiber, a material that combines both organic and artificial properties.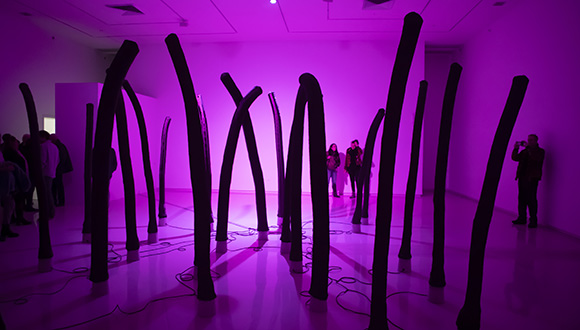 "Tropism" – giant stalks that illustrate the movement of plants. (Photo by Asaf Brenner)
The weeping stones
The final part of the exhibition is the work of the French artist Stephan Teide, "The Weeping Stones". The giant boulders hanging in the air undermine the laws of gravity, while shedding tears in an arid world, lacking any hint of vegetation. The work presents a "miracle": the stones seem to produce water by themselves, and the constant dripping produces both a meditative and otherworldly experience.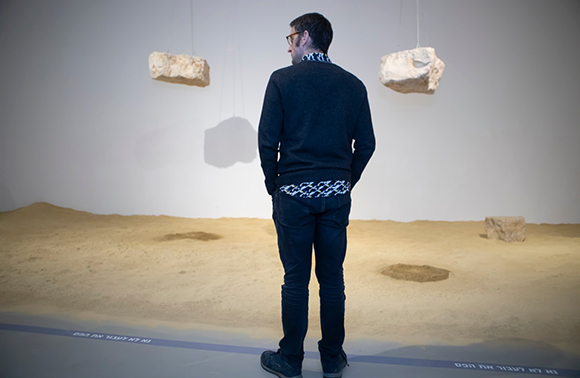 The weeping stones (Photo: Asaf Brenner)
Like nature, the exhibition is expected to change and grow throughout the year, as its living components change, expand, wilt and renew themselves. The exhibition will be open until June 2020, and will include guided tours, lectures and other events open to the public.