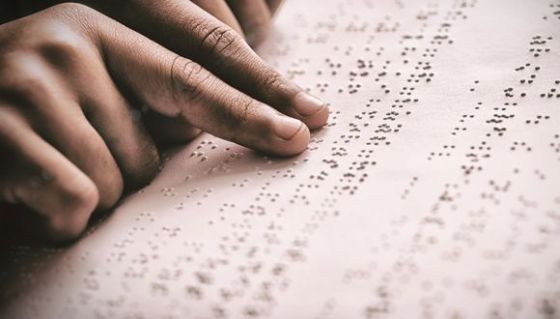 Making the future accessible
For International Braille Day we talked to the head of TAU's Sourasky Central Library about the future of accessibility
For many years, if you were vision impaired and wanted to read, you had to know Braille. Invented by Louis Braille, this unique form of tactile writing was introduced to the world in the 1830s and revolutionized access to information for people with visual disabilities. It allowed people the freedom to study, work, earn wages, and live independently, where before these options were extremely limited. By 1960, it was estimated that about 50% of children who were legally blind could read braille in the United States.
But in today's digital age, new forms of accessibility have become more widespread. We wanted to find out – is Braille still relevant or on its way to becoming extinct?
From text to voice When we asked the staff at TAU's Sourasky Central Library about books in Braille, we realized we were asking the wrong questions. The library doesn't have any Braille books, investing instead of more modern forms of accessibility.
 "We see accessibility as a very important issue," says Naama Scheftlowitz, director of the Sourasky Central Library. "But Braille isn't the most efficient solution these days. We offer students with disabilities more advanced forms consuming text, such as text-to-voice programs and audiobooks. Another benefit is that these forms of accessibility help not just vision-impaired people, but a wide range of students and library patrons. For example, students who don't speak Hebrew and have difficulty reading, but listening makes it easier for them to study."
Audio is the future
Every computer at the library comes equipped with "Kolfix", a text-to-voice program that can read any text on the screen out loud for the user. The library also offers students a subscription to iCast, an Israeli company that provides audiobooks, including translations of foreign books into Hebrew. The library's search engine, DATA, also has a brand new feature that allows users to "voice search", meaning to say the search term into a microphone instead of having to type it out.
Putting accessibility in the center
In the lobby of the library lives the Mia and Mila Pinkas Accessibility and Learning Assistance Center, maintained by the Dean of Students. Being placed in the lobby of the building means it's centrally located on campus, and the library is right there for any assistance. It's a spacious area containing work stations with advanced technological equipment, including magnification and reading software, and ergonomic equipment, aimed at making studying as accessible as possible for students with disabilities.
Some of the work stations at the Mia and Mila Pinkas Accessibility and Learning Assistance Center
"The very fact that the Accessibility Center is located within the library," Naama says, "raises awareness of the issue, and we keep up to date with new technologies and adopt them. We even serve as an address for various inquiries to assist with complex student needs."