"At the Movies"
Sunday 6th November 4pm
To celebrate the 50th anniversary of the prestigious Steve Tisch School of Film and Television at Tel Aviv University, AFTAU showcased three award winning short films to a full house at JIFF!

It was a wonderful social event and the audience was captivated by the outstanding quality of work emanating from the film school. The screening was followed by an informative Q&A with film director and editor
Hadas Ayalon!
Her Dance

Director: Bar Cohen

Audience Award and the award for best student international short at the Palm Springs ShortFest, Grand Jury Prix for acting in AFI Fest and audience award films at School Fest Munich.

Estranged from her family, Aya shows up uninvited to her sister's wedding Shabbat dinner. Her presence threatens to reveal family secrets and lies.

Neurim

Director: Shay Lee Atary

Winner Short Film Award, Hamptons International Film Festival, Winner Best Director Award, Poitiers International Film Festival, Winner Jury Award for Best Fiction Film, International Festival-Workshop of Film schools KINOPROBA.

Breezes of desire permeate daily rehabilitation routines when a relationship develops between Orr and her new physiotherapist after an injury.

Paris on the Water

Director: Hadas Ayalon

Winner Silver Medal- Student Academy Awards, USA, Winner Student Award Best Live Action Short- Palm Springs International ShortFest.

Bathya is a former movie star who feels that her life is finally about to change. After years of frustration, she is offered a role in a movie, but on the morning of the audition, she forced to re-examine her priorities in life.
Followed by
Q & A
Moderated by award winning producer and director Danny Ben-Moshe with Hadas Ayalon, Tel Aviv University alum and award winning director of "Paris on the Water" – live from Israel.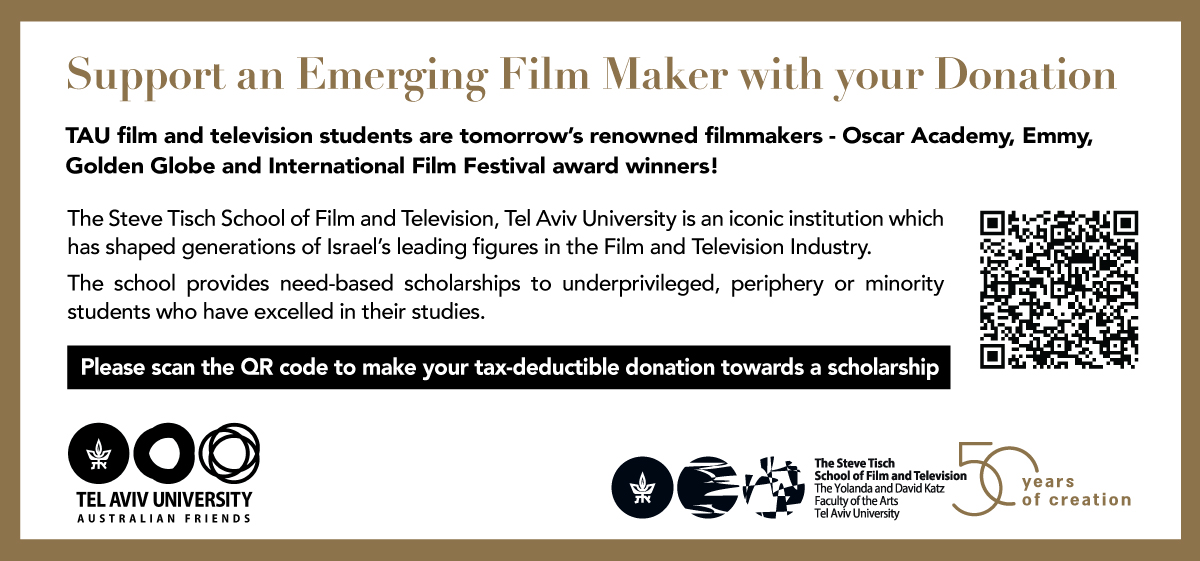 Photo Gallery: